Already at the landing at the airport Ngurah Rai we feel like in a new world. From the loudspeaker sounds Gamelan music, the smell of clove cigarettes surrounds us and the tropical moisty air let us perspire. Everything is colourful and noisy and we have hardly passed the passport control when we are surrounded by laughing faces, who want to help us with the luggage - of course for a few rupees. Although we landed in the middle of the night, half the city seems to be awake.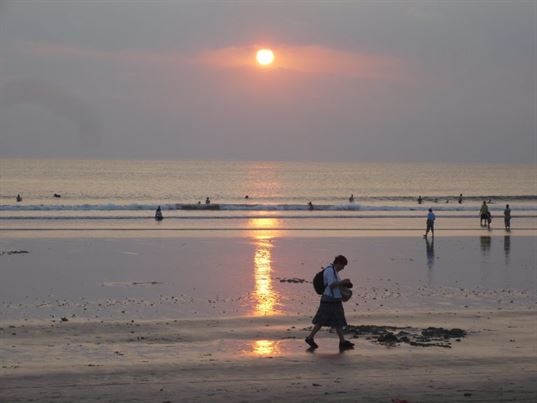 The first days we spend in Seminyak and explore the surrounding area.
Kuta is a noisy, bustling place with an endless (not always clean) beach. Here, tourism has conquered every angle long ago. Hotels, restaurants, bars, shops in all price categories, clogged streets, surf schools and beach vendors, who step out and follow you. We need a bit to get used to the hustle and bustle and to develop a look for the beautiful sides. But then we enjoy it when at 6:00 pm all gather on the beach for sunset, discover many small craftsmen, in which one can observe how wonderful wooden carvings or stone sculptures are created and are finally mobile with our motorbike. Left-hand traffic and the adventurous driving behaviour are a challenge, but they are fun with time.
In Bali - the island of the gods - a visit to a temple is, of course, a duty. Pura Besakih, Tannah Lot and Pura Luhur Ulu Watu are on the agenda for almost every visitor. As a result, these places are very overcrowded. But they are great located, and that makes the visit worthwhile. It impresses us how deep the Balinese are rooted in their faith. Religious rites and customs determine everyday life and living together. Small sacrifices are in front of each shop, each house has its small temple and all villages are aligned in the direction to the volcanoes where the gods live and the sea in which the underworld is at home. We are fortunate enough to be invited to a house inauguration and be allowed to attend one of the elaborate ceremonies, where animals are sacrificed depending on the size of the house and importance of the ceremony.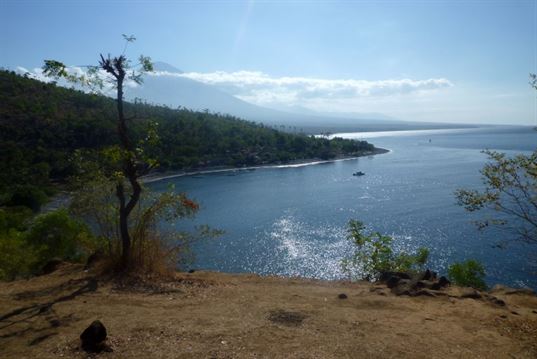 The north-east of Bali is increasingly becoming an attractive destination for those who want to escape the hustle and bustle of Kuta. We rent a car and drive via Sanur (a few days stay here is definitely worth it) to Amed. Here we can recommend the WaWaWeWe as accommodation. It is located a bit outside, but with a fantastic view over the sea. After a short stay and an intermediate stop at a waterfall, we continue to Lovina. We make the mistake of driving out with one of the boom boats just before sunrise to watch dolphins. More and more boats are coming from all sides and with their loud engines, they only panic the dolphins. It seems to us like a big hunt and we would never do that again.
In Banjar, we stop at the hot springs and in Bali's only Buddhist monastery "Brahma Vihara" before continuing to Pemuteran. We find a very hidden place, the "Bali Oasis", one of our favourite accommodation in Bali. The small area has only 4 bungalows and a small main house with kitchen and half-open dining area. From here you can make wonderful diving safaris, for example to Menjangan. The uninhabited island is a nature reserve and is home to a species of deer, which has learned to survive with salt water because of the lack of fresh water. The bizarre coral gardens and the fish diversity are an El Dorado for snorkelers and divers.
Through the midland and via Ubud (which has been very disappointing) we drive back to the south. With speedboats we are now exploring some nearby islands, such as Pulau Serangan, Nusa Penida, Nusa Lembongan and, of course, Gili Trawangan.
The sea turtles, which Pulau Serangan owes its name, unfortunately, have disappeared a long time ago, but it is still worth a half-day trip from Sanur.
In Nusa Lembongan, we spend a few days in the Mushroom Bay. The nearby "Crystal Bay" attracts numerous divers every year because of its crystal-clear water.
The Gilis (formerly a hotspot of hippies and dropouts) with their main island Gili Trawangan has developed into an absolute party island. There are still no motorized vehicles on the island (only mule coaches and bicycles), but a lot of bars, restaurants and hotels all around the harbour. A highlight is the snow-white, powdery sand beach, which is really as kitschy as in a commercial. The nearby islands of Gili Meno and Gili Air can be approached with one of the boom boats. If you like, the boat guide stops at the best snorkel places.
Conclusion
Although Bali is currently booming, it is still worth a trip. Away from the tourist routes, you'll find a breathtaking landscape, friendly, highly creative people and a spirituality like in any other place. We will definitely come back because the area around the Gunung Agung we have not travelled yet.
Our top ten tips: